Twelve Schwebel, Goetz & Sieben Attorneys Named 2013 Minnesota Super Lawyers

July 2013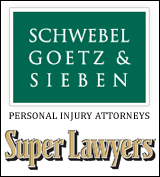 MINNEAPOLIS, MN (July 8, 2013) – The law firm of Schwebel, Goetz & Sieben is pleased to announce that 12 of its attorneys have been selected for inclusion in the Minnesota Super Lawyers listing for 2013.
Among the firm's lawyers who have been honored with the "Super Lawyer" status are Jim Schwebel, John Goetz, William Sieben, James Ballentine, Paul Godlewski, Mark Gruesner, Max Hacker, Richard Nygaard, Peter Riley, Larry Stern, Richard Tousignant and James Weinmeyer.
"Our success is directly attributable to all of the lawyers and support staff here," said senior partner Bill Sieben. "We are surrounded by highly experienced, enthusiastic people who like what they do."
Super Lawyers selects attorneys using a rigorous, multiphase rating process. Peer nominations and evaluations are combined with third-party research and each candidate is evaluated on 12 indicators of peer recognition and professional achievement. The result is a credible, comprehensive and diverse listing of attorneys who are at the top of their profession and the listing becomes a valuable resource for attorneys and consumers seeking legal counsel.
Jim Schwebel and Bill Sieben are included in Minnesota's Top 10 Super Lawyers. It is the sixth year that Sieben has been named in the Top 10 since the list began in 1991. It is also the second time that both Schwebel and Sieben have made the Top 10 since 2003. Sieben was previously named 2013 Minneapolis Personal Injury Litigation – Plaintiffs "Lawyer of the Year," is included in the Minnesota Lawyers Hall of Fame and is a member of the International Society of Barristers.
Joining Schwebel and Sieben in the Top 100 Minnesota Super Lawyers list for the second year in a row is attorney Mark Gruesner.
Personal injury attorney Max Hacker has been recognized as a Super Lawyer many times during his 33 years with the firm and has also been named to the Super Lawyers listing for 2013.
"Being recognized by such accomplished professionals for doing high quality work is very flattering," Hacker said.
"Max Hacker has consistently accomplished exceptional settlements and awards for his clients, frequently exceeding their expectations," President Jim Schwebel said. "His acknowledgment by the legal community as a Super Lawyer is justly deserved."
The leading attorney ratings system for consumers, Super Lawyers is an annual jurisdictional listing of outstanding lawyers from more than 70 areas of practice. Only 5 percent of the lawyers from any state or region are included each year, making the accomplishment by Schwebel, Goetz & Sieben even more significant. The firm's lawyers make up 20 percent of the Top 10 list and 3 percent of the Top 100.
Two attorneys from Schwebel, Goetz & Sieben, Alicia Sieben and Courtney Lawrence, were named as Minnesota Super Lawyers Rising Stars for 2013. It was Lawrence's third year and Alicia Sieben's second year of receiving the designation.
"It is such an honor to be recognized for being able to help people and doing something I love," said Lawrence.
Alicia Sieben also commented on the accolade, saying, "It's an honor that my passion for helping personal injury victims is recognized."
The attorneys at Schwebel, Goetz & Sieben have an average of 25 years of experience with personal injury and wrongful death cases. In addition to the firm's recognition in the Super Lawyers 2013 publication, nine of its attorneys are listed in the Best Lawyers in America® 2013 publication and 10 of its Minneapolis personal injury attorneys are National Board and Minnesota State Bar certified as Civil Trial Specialists.
Schwebel, Goetz & Sieben offers free consultations to those who have been wrongfully injured. The firm can be reached online at schwebel.com, or by calling 612-377-7777 or toll free at 800-752-4265.