Schwebel, Goetz & Sieben Welcomes Personal Injury Attorney William "Buck" Strifert to the Firm

February 2017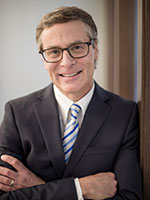 MINNEAPOLIS, MN (February 7th, 2017) – Schwebel, Goetz & Sieben is pleased to announce the addition of personal injury attorney William "Buck" Strifert to their team of experienced lawyers. He specializes in personal injury litigation with an emphasis on major automobile and truck crashes and work related injury claims.
"Buck is an exceptional trial lawyer who enjoys an excellent reputation in our community. We know his skills set will greatly benefit our personal injury clients," said founding partner Jim Schwebel.
Buck has successfully taken more than 120 personal injury cases to trial. He adds, "With each case, I enter into a partnership with my client, working through adversity and sharing in the successes."
Continuing to build on more than 30 years of legal experience, Buck has met the high standards for admission to the National Board of Trial Advocacy as a Certified Civil Trial Specialist. He is a member of the American Association for Justice and the Minnesota Association for Justice.
Buck is married and has two daughters, and when he isn't spending time with them or with clients, he likes to snowboard and play golf.
Schwebel, Goetz & Sieben has a team of 19 personal injury attorneys with decades of experience. They have protected the rights of more than 50,000 personal injury accident victims and have recovered over $750 million in damages for them. They handle all their clients' legal matters rapidly and professionally to help them recover quickly. Main offices are located in Minneapolis, Minnesota, but they also represent accident victims in Wisconsin, Iowa, North Dakota and South Dakota.
Contact Schwebel, Goetz & Sieben at (612) 377-7777 or toll-free at 1 (800) 752-4265 or visit www.schwebel.com for more information.