Attorney Cole J. Dixon Welcomed as New Member of the American Board of Trial Advocates

October 2019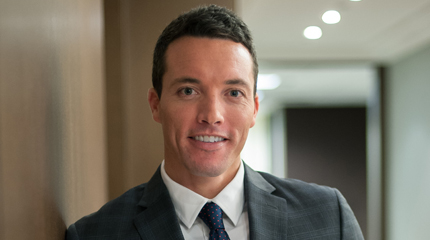 The law firm of Schwebel, Goetz, & Sieben, P.A. in Minneapolis, MN is pleased to announce the selection of attorney Cole J. Dixon to the American Board of Trial Advocates (ABOTA). ABOTA is dedicated to the preservation of the civil jury trial and abides by a motto of "Justice by the People."
ABOTA seeks attorneys who exhibit both skill, civility, and integrity. Its attorneys assist younger lawyers with higher degrees of trial advocacy. The organization also strives to educate the public about the importance of the Seventh Amendment.
Cole exemplifies the qualities of experienced ABOTA attorneys. Actively involved in the legal community, he presents at continuing legal education conferences, such as the Minnesota Association for Justice. Cole is recognized as a Certified Civil Trial Law Specialist by the Minnesota State Bar Association (MSBA) and has also been featured in Attorney at Law Magazine – Minnesota Edition.
ABOTA membership is dependent on numerous criteria including the ability for any applicant to list 10 civil jury trials that went to a jury verdict or hung jury as lead counsel. The membership rules for ABOTA are outlined in Article III, Section 2 of the organization's constitution.
Cole's experience as an attorney includes all aspects of personal injury litigation including car and truck collisions, motorcycle crashes and general liability cases. He earned his undergraduate degree from Minnesota State University Mankato and went on to graduate from the University of South Dakota School of Law in 2007. Cole is a member of the Minnesota, Iowa and South Dakota state bars and is licensed to practice law in all three states.
Cole Dixon joined Schwebel, Goetz & Sieben in 2013 and brings with him experience and compassion when helping those who have suffered injuries. He has dedicated his practice to solely representing individuals who were injured due to no fault of their own. He looks at his job as a true honor and a privilege to assist those in need following a traumatic, life altering accident.
The Law Office of Schwebel, Goetz, & Sieben, P.A. is Minnesota's largest law firm specializing in personal injury. If you or a loved one has been seriously injured in an accident, contact the experienced lawyers at Schwebel, Goetz & Sieben at 612-377-7777 or toll free at 1-800-752-4265, or by visiting www.schwebel.com. There is no consultation fee, and the friendly, knowledgeable team will help you fight for your rights to fair compensation.