Attorney Cole J. Dixon Recognized as Certified Civil Trial Law Specialist by the Minnesota State Bar Association

October 2018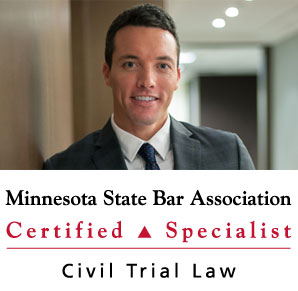 Minneapolis, MN – Personal injury law firm Schwebel, Goetz & Sieben is pleased to announce attorney Cole J. Dixon has been recognized as a Certified Civil Trial Law Specialist by the Minnesota State Bar Association (MSBA). Cole joins a qualified group of less than 3% of all registered attorneys in Minnesota that are certified as specialists in their respective fields.
According to the MSBA, board certification is a rigorous process that requires candidates to have significant experience and prove their expertise in their chosen legal specialty. The designation "Certified Specialist" provides the professional with a time-honored method of informing the public and their peers that their specialty qualifications have been tested, documented, and certified by an accrediting organization.
Although lawyers aren't required to obtain board certification to practice in a specific area, the distinction serves as a clear indication of competency, discipline and commitment to both professional excellence and serving the needs of every client. More than half of Schwebel, Goetz & Sieben partners and staff attorneys are board certified by the Minnesota State Bar Association as well as the American Bar Association. As our new attorneys seek board certification, we're confident that this figure will continue to rise.
Cole Dixon joined Schwebel, Goetz & Sieben in 2013 and brings with him experience and compassion when helping those who have suffered injuries. He has dedicated his practice to solely representing individuals who were injured due to no fault of their own. He looks at his job as a true honor and a privilege to assist those in need following a traumatic, life altering accident.
Actively involved in the legal community, Cole presents at continuing legal education conferences, such as the Minnesota Association for Justice. He has also been featured in Attorney at Law Magazine – Minnesota Edition.
If you or a loved one has been seriously injured in an accident, contact the experienced lawyers at Schwebel, Goetz & Sieben at 612-377-7777 or toll free at 1-800-752-4265, or by visiting www.schwebel.com. There is no consultation fee, and their friendly, knowledgeable team will help you fight for your rights to fair compensation.