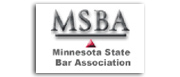 On February 20, 1883 the Minnesota State Bar Association was incorporated, declaring its purpose as: "To establish and conduct a legal society, to maintain the honor and integrity of the legal profession and to create and maintain a law library in the City of Minneapolis, in the County of Hennepin, State of Minnesota."
Today's Bar envisions its role as leading society in the creation of a justice system that is understood, valued, respected and accessible to all. Within that vision, we have established a mission of representing lawyers in Minnesota and serving the public and the legal profession by promoting justice, professional excellence, civility, ethics, respect for and understanding of the law.
The Minnesota State Bar Association is an organization of over 16,000 lawyers and judges, includes active and inactive lawyers, and lawyers who reside within and outside the State of Minnesota. In order to practice law in the State of Minnesota, it is not necessary to be a member of the Minnesota State Bar Association.
The Minnesota State Bar Association maintains offices at 600 Nicollet Mall in Minneapolis. The Bar officers include a president and a president elect, treasurer and secretary who are elected by Assembly. Assembly consists of 124 representatives from district bar associations, minority bar associations, affiliated organizations, MSBA council members, MSBA sections, appellate courts, law schools, Minnesota CLE, and the ABA delegation. The Bar has an office staff with various responsibilities related to the administration of the practice of law and service to lawyers as well as the public.
Schwebel, Goetz & Sieben is proud that all of its lawyers are active members of this elite organization.