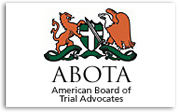 The preservation of the civil jury trial, the embodiment of the concept of "Justice by the People" is the primary purpose of the American Board of Trial Advocates (ABOTA). Although guaranteed by the Seventh Amendment to the United States Constitution, the civil jury trial has been under constant attack.
As faithful stewards of the constitutional right, the more than 6,200 members of ABOTA are divided between defense and plaintiff civil trial lawyers. By imposing high membership standards, our "by invitation only" association has earned the reputation as the best in the nation.
Only the most qualified defense and plaintiff attorneys with courtroom experience are invited to join ABOTA. The high caliber of the membership and the defense-plaintiff balance give ABOTA a unique edge over other legal organizations. Personal character and an honorable reputation are paramount to qualify for ABOTA.
A natural by-product of this unique union of attorneys is an increased awareness of the importance of civility and professionalism, both in and out of the courtroom.
With a strong national governing board of over 150 representatives and chapters in all 50 states, ABOTA has rallied to the defense of the civil jury trial since 1957. The membership provides a sense of family and community through chapter activities, regional and national conventions. The local chapters provide grass roots strength, while promoting civility and the art of advocacy.
ABOTA seeks attorneys who display skill, civility and integrity, to help younger attorneys achieve a higher level of trial advocacy and to educate the public about the vital importance of the Seventh Amendment.
Schwebel, Goetz & Sieben is proud to have several trial attorneys as members of this elite organization: James R. Schwebel, William R. Sieben, Richard L. Tousignant, Peter W. Riley*, John C. Goetz, Paul E. Godlewski, Mark H. Gruesner.
*President of the Minnesota Chapter of the American Board of Trial Advocates (2007).  National Member 2010 – present