Why I do what I do – Kojo A. Addo

July 2020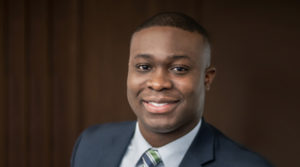 It has always been in my heart to help people. Growing up, my mother, a registered nurse, and my father, a radiology interventional technologist, would share stories with me about patients they cared for.  Many of these patients were victims of motor vehicle accidents and sustained serious injuries.  Often times, the lives of these patients and their families would be forever changed.
At a young age, I knew that I wanted to pursue a profession in which I could serve and help people.  As I progressed through college and throughout law school, I recognized that my skills were geared towards advocacy.  As a personal injury attorney, I assist my client in navigating the legal and insurance processes to ensure that they have received fair compensation for their injuries.  This allows my clients to focus on their personal recovery, while I take care of the heavy lifting.
One of the most gratifying experiences of being a personal injury lawyer, is helping a client resolve a case.  Here is a gracious note from a satisfied client.
"My lawyer was Kojo Addo and he was a gem!  He understood I wasn't necessarily comfortable having to go this route but he put me at ease and made the whole process easy for me.  He was thorough, eager, courteous – all that I could want in a legal counselor.  I wish I would have come to your firm right after the injury occurred rather than going through months and months of frustration trying to handle this on my own.  Thank you so much and kudos to Kojo for his wonderful work."
My commitment to justice and advocacy, coupled with compassion, as well as Schwebel, Goetz & Sieben's tradition of exceptional service position me to serve injured people and their loved ones to the highest level of excellence.