SG&S Attorneys and Staff Raise Money for the Minneapolis Federation of Teachers Back to School Party

August 2022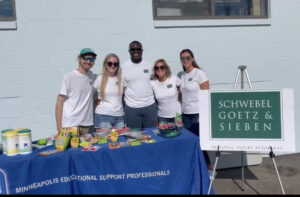 For the second year in a row, SG&S attorneys and staff attended the Minneapolis Federation of Teachers back to school party. Donations were used to provide free school supplies, Clorox wipes, blankets and yoga mats to parents and teachers in need. $1,000 in cash donations was matched by the firm for a total of $2000 which was used to purchase gift cards that were raffled off throughout the night.
The Minneapolis Federation of Teachers is a union of professionals that champions fairness; democracy; economic opportunity; and high-quality public education, healthcare, and public services for our students, their families and our communities. We are committed to advancing these principles through community engagement, organizing, collective bargaining and political activism, and especially through the work our members do.
If you or a loved one has been seriously injured in an accident, contact the experienced lawyers at Schwebel, Goetz & Sieben at 612-377-7777 or toll free at 1-800-752-4265, or by visiting www.schwebel.com. There is no consultation fee, and their friendly, knowledgeable team will help you fight for your rights to fair compensation.