Schwebel, Goetz & Sieben Attorney Kojo Addo Recognized in Inaugural Edition of 2021 Best Lawyers: Ones To Watch

August 2020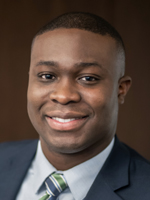 Minneapolis, MN, August 2020 – Personal injury law firm Schwebel, Goetz & Sieben is pleased to announce attorney Kojo A. Addo is recognized in The Best Lawyers in America© inaugural edition of 2021 Best Lawyers: Ones To Watch for the category Personal Injury Litigation – Plaintiffs. This is Addo's first year receiving the award for outstanding professional excellence in private practice. All hopeful candidates must be nominated and vetted by their peers to be recognized.
Kojo started at Schwebel, Goetz & Sieben as a law clerk in 2015 and became an attorney at the firm in October, 2017. He received his undergraduate degree in Communication Studies with a minor in Business Management from Gustavus Adolphus College. Kojo obtained his juris doctorate from Mitchell Hamline School of Law.
Kojo has always had a heart for people and enjoys helping others navigate complicated and challenging life events by dedicating his legal career to serving injured people. He recognizes that he can leverage his passion for service, analytical abilities, and understanding of people to effectively advocate for those suffering and enduring traumatic and, often times, life altering injuries. Kojo's commitment to service, justice, and advocacy, coupled with his compassionate and empathetic nature ideally position him to serve injured people and their loved ones.
The 2021 Best Lawyers: Ones To Watch award is recognitions given to an attorney who is early in their career, typically having been in practice for 5-9 years. Best Lawyers® lists are compiled based on an exhaustive peer-review evaluation. Approximately six million evaluations are sent to the top attorneys throughout the U.S. whose ratings and opinions of their peers' professionalism, abilities and integrity are kept strictly confidential by the publication. Lawyers are not required or allowed to pay a fee to be listed; therefore inclusion in Best Lawyers® is considered a singular honor. Less than one percent of the attorneys in the U.S. are included in the publication.
Best Lawyers® believes that recognition by one's peers is the most meaningful form of praise in the legal profession and would like to congratulate Kojo Addo on being selected.
"This prestigious recognition serves as a testament to the talent of our attorneys, their commitment to advancing the legal profession and more importantly, their constant drive to deliver quality counsel and optimum results to our clients," said Jim Schwebel, founding partner of Schwebel, Goetz & Sieben.
Jim Schwebel founded the law firm over forty years ago to help those injured in accidents or by someone else's negligence. Schwebel, Goetz & Sieben proceeded to attract other top attorneys and has grown to become one of the largest personal injury law firms serving Minnesota, Iowa, Wisconsin, North Dakota and South Dakota.
"Oftentimes, when you're representing someone who has suffered a very serious injury, you become their champion – you become their mouthpiece. You want to help in any way that you can," concluded Schwebel.
Schwebel, Goetz & Sieben attorneys also support the community through mentoring, volunteer work and fundraising. Their legal expertise and commitment to helping people in all walks of life contribute to the respect the attorneys have gained from their peers.
If you or a loved one has been seriously injured in an accident, contact the experienced lawyers at Schwebel, Goetz & Sieben at 612-377-7777 or toll free at 1-800-752-4265, or by visiting www.schwebel.com. There is no consultation fee, and their friendly, knowledgeable team will help you fight for your rights to fair compensation.
###