Schwebel, Goetz & Sieben Attorney Jenny Olson is the Recipient of the Minnesota Association for Justice's 2020 "Member of the Year" Award

August 2020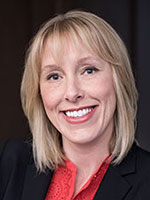 Minneapolis, MN, August 2020 – Personal injury law firm Schwebel, Goetz & Sieben is pleased to announce attorney Jennifer E. Olson is the recipient of the Minnesota Association for Justice's (MAJ) 2020 "Member of Year" award. The annual award goes to a member who has advanced MAJ's interests, demonstrated the highest ideals of the legal profession and exemplified legal excellence, professionalism, and ethics.
Jenny joined Schwebel, Goetz & Sieben in 2018 with significant experience fighting for injured people inside and outside the courtroom. She is an active member of the legal community and contributes to MAJ by serving on the Executive Committee, the Board of Directors, the Legislative Committee, the Women for Justice Committee and became Chair of the Amicus Curiae Committee in 2016. This past year as chair Jenny has re-energized and re-organized the committee to maximize effectiveness, and to encourage collaboration and support among the many talented writers on the committee.
The MAJ Amicus Curiae Committee is the best in the state and assists the legal profession by submitting briefs in support of issues before the Minnesota Appellate Courts. The committee accepts solicitations from members and non-members alike, provided that the case presents an issue of statewide importance to the legal profession or one which is significant to members. Jenny has a passion for motion writing and appellate advocacy because not only is it important to give individual clients the best chance at a fair outcome, but it allows her to advocate for more fair outcomes under the law for all people injured as a result of someone else's negligence.
"Jenn generously utilizes her talent and energy advocating for consumer rights before the Minnesota Courts in cases that often have broad impact. Her successes have assisted accident victims throughout the state," said Jim Schwebel, founding partner of Schwebel, Goetz & Sieben.
Jenny frequently presents at CLE's, and is known for listening to all of the appellate oral arguments in state and federal courts to be aware of all issues that the amicus committee may want to participate in or could impact consumer rights in the state.
Jenny enjoys writing amicus briefs because it allows her to work with the talented attorneys who bring these claims and argue on their clients' behalf in Minnesota's Appellate Courts. Writing a single amicus brief requires a time intensive commitment to a particularly important issue. Jenny has written four amicus briefs to the Supreme Court over the past year. Three of the amicus briefs helped to secure a successful outcome and the fourth amicus brief is in a case currently before the Minnesota Supreme Court.
Getz v. Peace et al., 934 N.W.2d 347 (Minn. 2019).
The Supreme Court interpreted M.S.A. 548.251, known as Minnesota's Collateral Source Statute. The Supreme Court found that Medicaid and Medicare recipients are entitled to recover the entire amount billed by medical providers from the at fault party even if the Medicaid or Medicare plan paid significantly less to satisfy the bills.

This case is widely regarded as having a large and important impact on personal injury claims in the state.


Marquardt v. Schaffhausen, et al., 941 N.W.2d 715 (Minn. 2020).
The Supreme Court reinstated a verdict for a woman injured by medical malpractice.

This case is particularly important in laying out the foundational requirements for medical expert testimony in all personal injury claims in the state. This case is also important because MAJ fights vigorously to protect injured peoples' constitutional right to have their cases heard and decided by a jury of their peers.


Peterson v. Western National, WL4342929 (Minn. 2020).
Jenny co-authored this amicus brief with attorney Michael Weiner. The Supreme Court clarified the meaning of M.S.A. 604.18. This statute allows an insured person to bring a claim against their insurer if the insurance company denies the claim without a reasonable basis and if the insurer knew or acted in reckless disregard for the fact there was an absence of a reasonable basis to deny the claim. Claims under this statute are commonly referred to as "first-party bad faith cases."

Prior to this statute, consumers who paid premiums for their insurance had no way to protect themselves when their insurance company unreasonably handled their claims. This statute allows the consumer to pursue a financial remedy against their insurance company in a bad faith claim.

The insurance companies vigorously argued that they should be immunized from bad faith liability if they can show "any reason" to deny the claim. This would have made a remedy under the law nearly impossible. The Supreme Court rejected the insurance industry's argument. The Court found that an insured can sustain a bad faith claim against their insurance company if 1) a reasonable insurer would not have denied the claim, and 2) if the insurer knows or recklessly disregards that there is no reasonable basis to deny a claim.

In summary, Peterson v. Western National offered much needed clarity to Minnesota's bad faith statute and made clear that insurance companies can be held accountable for failure to reasonably evaluate their insured's claims.


King's Cove Marina L.L.C. v. United Fire & Casualty Co. (pending before the Supreme Court).
This case deals with the reasonableness of Miller v. Shugart Agreements. In Minnesota, if an insurance company denies coverage to its insured, the injured party and insured can enter into a Miller v. Shugart Agreement. These agreements are essential because when an insurance company abandons its insured, the insured faces potential personal liability despite having insurance coverage and the injured person faces the potential of not being able to recover for their damage. These agreements allow a settlement between the parties and then the injured party pursues insurance coverage against the insurance company directly.

MAJ agreed to participate and submit an amicus brief because issues surrounding Miller v. Shugart agreements are very important to injured parties and insureds in this state. Under the insurance company's position, it can wrongfully deny insurance coverage, leave its insured abandoned, be found to be wrong in its denial, and find an alleged procedural defect in the Miller v. Shugart agreement and avoid its responsibility to pay the claim. MAJ seeks to support a more reasonable and fair outcome to consumers in the state.

Jenny wrote an amicus brief to support the injured party. Oral argument is expected in the next couple of months.
The Minnesota Association for Justice was established in 1954 by a small group of lawyers dedicated to protecting the rights of the injured and accused. To learn more about the organization visit www.mnaj.org.
If you or a loved one has been seriously injured in an accident, contact the experienced personal injury attorneys at Schwebel, Goetz & Sieben at 612-377-7777 or toll free at 1-800-752-4265, or by visiting www.schwebel.com. There is no consultation fee, and their friendly, knowledgeable team will help you fight for your rights to fair compensation.
###