Minneapolis Police K-9 Foundation

June 2015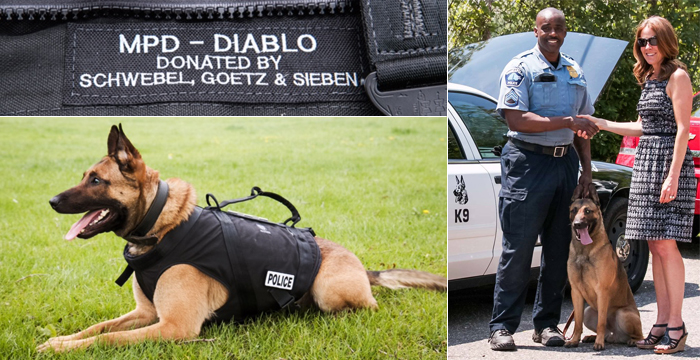 The Minneapolis Police Department's K-9 unit has been serving the citizens of Minneapolis, and the men and women of the police department since 1966. The dogs utilized by the unit are initially trained for suspect detection and apprehension, but many go on to receive training in narcotics and explosives detection. All of the dogs live at home with their police partners and their families. The selection process is rigorous. Only a select few make the cut which makes purchase and training of these animals costly. The Minneapolis Police K-9 Foundation's mission is to provide financial support for the Minneapolis Police Department's K-9 unit.
We have a tremendous amount of respect for the work of law enforcement officials and their canine counterparts. The firm has made a donation of two tactical protective vests for K9 Diablo, and K9 Enzo as a small token of our gratitude for the valuable work that they do.
Contact Us at Schwebel, Goetz & Sieben
Schwebel, Goetz & Sieben has been an advocate for Minnesotans since 1974. Call us today for a free case evaluation. We are available to take your call at 1-612-377-7777 or 1-800-752-4265 (toll-free).