Minneapolis Law Firm Earns Super Lawyer Status

July 2012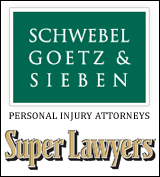 Eleven attorneys from personal injury law firm Schwebel, Goetz & Sieben have been recognized for their "professional achievement" by Minnesota's Super Lawyers 2012 listings. In addition, two "up and coming" lawyers were recognized as Rising Stars. Super Lawyers magazine profiles leaders in the legal profession annually by state and practice area.
Schwebel, Goetz & Sieben, personal injury attorneys, provide legal services to clients with the goal of "excellence in service" statewide. Earning many professional awards over the years, their 17 lawyers take their commitments seriously and are proud to have so many of the firm's attorneys recognized as Super Lawyers.
"What a delight to see that both Courtney Lawrence and Alicia Sieben have been voted Minnesota Super Lawyer Rising Stars, and eleven of our lawyers have again made Super Lawyer," said founding partner James Schwebel. "There is no other personal injury law firm with this high a percentage of Super Lawyers. Most important, it evidences the dedication that the firm has to the needs of our clients."
Super Lawyers magazine, printed nationally and in regional editions, annually selects the top 5 percent of "outstanding attorneys" on a state-by-state basis. The magazine has a readership of 13 million. The designation of Super Lawyer is reserved for established and experienced attorneys. Since 1998, attorneys under 40 years old or with less than 10 years in practice, are considered for honors as Rising Stars.
Lawrence enjoys a second year as a Rising Star; for Sieben this new honor is a milestone in her career. "Being recognized by those more experienced in the field is an honor," she says. "It's encouraging to be recognized for doing the work I love to do."
Attorney Mark Gruesner, having been selected as a Super Lawyer since 2003, has now been selected for inclusion in Minnesota's "Top 100" Super Lawyers 2012. "It is most humbling to receive this acknowledgment by fellow trial lawyers, and to be in the company of such talented and gifted colleagues."
William Sieben sets a standard for the firm achieving his fifth year in the top 10 of the Minnesota Super Lawyers list, and he sees his award as a reflection of teamwork. "While I appreciate the vote of confidence, this is really a reflection of the work that everyone at Schwebel, Goetz and Sieben does," he said. "There isn't a day that goes by that we don't collaborate on so many issues to the benefit of our clients."
With the objective to create a "credible, comprehensive, and diverse" list of top attorneys, Super Lawyers magazine seeks to serve consumers and attorneys available for legal counseling. Recognized by bar associations and courts nationally, they have a formal process that includes third party research to build "comprehensive, good-faith, and detailed" listings. After formal nominations with the recommendations, research is initiated to assure the valuations by peers are accurate. In-firm nominations are at a disadvantage automatically in the point system – who nominates whom is tracked to eliminate "gaming" the process. Campaigning and solicitation is prohibited.
Candidates are evaluated by education, credentials, awards, experience, community service, and several other areas of expertise. Then in the final selection the candidates' credentials, licenses, and standing in the legal community are confirmed before the list is published.
The partners, attorneys, and staff at Schwebel, Goetz & Sieben remain committed to customer service. With teamwork, and uncompromising professionalism, the firm's proven track record and multi-award winning legal team offers the broadest range of personal injury litigation. They are "exceptionally proud" of their team's attorneys for achieving these Minnesota Super Lawyers 2012 designations.
Schwebel, Goetz & Sieben Super Lawyers include:
James R. Schwebel (Top 100 MN Super Lawyers)
John C. Goetz
William R. Sieben (Top 100 MN Super Lawyers)
James S. Ballentine
Paul E. Godlewski
Mark H. Gruesner
Richard J. Nygaard
Peter W. Riley
Larry E. Stern
Richard L. Tousignant
James G. Weinmeyer
About Schwebel, Goetz & Sieben
We are personal injury attorneys who understand a serious injury, or the loss of a loved one, brings major disruption to the lives of the people involved. We strive to continue a tradition of aggressive, competent legal representation with integrity, hard work, and expertise to achieve positive outcomes for clients. We are always committed to handling legal matters quickly so that clients can concentrate on putting their lives back together.
If you, or a loved one, has been involved in a personal injury accident in Minnesota, call us at 612-377-7777 or 1-800-752-4265 (toll free) for a free consultation. We'll fight to make sure your rights are upheld.