Fourteen Schwebel, Goetz & Sieben Attorneys Named 2014 Minnesota Super Lawyers

July 2014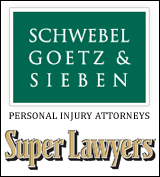 The Law Office of Schwebel, Goetz & Sieben is pleased to announce that 14 of its attorneys have been named to the official list of Minnesota Super Lawyers for 2014. In addition to senior partners Jim Schwebel, William R. Sieben and John C. Goetz, Schwebel, Goetz & Sieben's 2014 Minnesota Super Lawyers include James S. Ballentine, William A. Crandall III, Paul E. Godlewski, Mark H. Gruesner, Max H. Hacker, Richard J. Nygaard, Peter W. Riley, Robert J. Schmitz, Larry E. Stern, Richard L. Tousignant and James G. Weinmeyer.
The Minneapolis-based firm has a higher proportion of 2014 Minnesota Super Lawyers than any other personal injury law firm in operation. Founding partner Jim Schwebel adds, "Most important, it evidences the dedication that the firm has to the needs of our clients."
"At Schwebel, Goetz & Sieben, we invest in people, our clients, our lawyers and our staff," said senior partner William R. Sieben. "Our investments are made on sound legal principle, but also on compassion for those that we serve."
Super Lawyers employs a rigorous, impartial rating process that incorporates peer reviews, peer evaluations and independent research by Super Lawyers' staff and associates. The process covers attorneys in more than 70 practice areas and aims to identify the top 5 percent in each discipline. Super Lawyers candidates may be identified by the organization's researchers, formally nominated by attorneys licensed to practice in their state and informally nominated by clients and attorneys in other jurisdictions.
To be considered for inclusion in the final pool, candidates must have reached an objectively high degree of professional achievement and be recognized by their peers as leaders in their respective fields. According to Super Lawyers, the selection process covers a total of 12 indicators of achievement and recognition in an effort to create "a credible, comprehensive and diverse listing of outstanding attorneys that can be used as a resource for attorneys and consumers searching for legal counsel."
In 2013, the U.S. Patent and Trademark Office issued a patent (U.S. Pat. No. 8,412,564) for the Super Lawyers selection process, solidifying its status as the premier arbiter of legal recognition and professionalism for attorneys and consumers alike.
New to the Super Lawyers list for 2014, attorney Robert Schmitz said, "While I appreciate the personal accolades, my primary focus remains on providing my clients with the best possible legal representation."
Several of the attorneys on this year's Minnesota Super Lawyers list have received this accolade in the past. Since 2003, attorneys Ballentine, Godlewski, Goetz, Gruesner, Nygaard, Riley, Schwebel, Sieben and Tousignant have been Minnesota Super Lawyers without interruption. The sheer number of familiar names reflects the deep reserves of talent at Schwebel, Goetz & Sieben as well as the respect that the firm's attorneys command among their peers.
"I am happy to once again have been named a Super Lawyer for the year 2014," said William A. Crandall III. "It's truly an honor to be named for this award by one's peers."
Additionally, attorneys Sieben and Schwebel were named to the Top 10 Minnesota Super Lawyers list, an elite distinction afforded to the state's finest attorneys. This is Mr. Sieben's seventh inclusion on the Top 10 list, which has periodically honored him since its inception. Three Schwebel, Goetz & Sieben attorneys made the Top 100 Minnesota Super Lawyers list: Gruesner, Schwebel and Sieben.
"Being recognized by one's peers is an incredibly humbling experience and so very much appreciated," said Mark Gruesner.
Schwebel, Goetz & Sieben also celebrates the accomplishments of its younger attorneys with the announcement of two in-house inclusions on the list of Minnesota Super Lawyers Rising Stars for 2014: attorneys Alicia N. Sieben and Courtney A. Lawrence. For Ms. Sieben, this marks the third consecutive year as a Rising Star. Ms. Lawrence has been named a Rising Star for four straight years.
"Representing injured clients is a privilege. Being recognized for it heightens the honor," said Alicia Sieben.
Courtney Lawrence adds, "It's a great honor to be recognized by your peers for doing something you love."
In addition to its 14 Super Lawyers and two Rising Stars, Schwebel, Goetz & Sieben has 10 attorneys who are certified as Civil Trial Specialists by the National Board of Legal Specialty Certification. More information about the firm is available at www.schwebel.com or by calling (612) 377-7777.