Courtney Lawrence, Jessica Servais and Alicia Sieben Featured in Attorney at Law Magazine – Minnesota Edition

January 2018
2017 Women in Law: Schwebel, Goetz & Sieben – Thriving as People and Professionals
Haley Freeman (Source)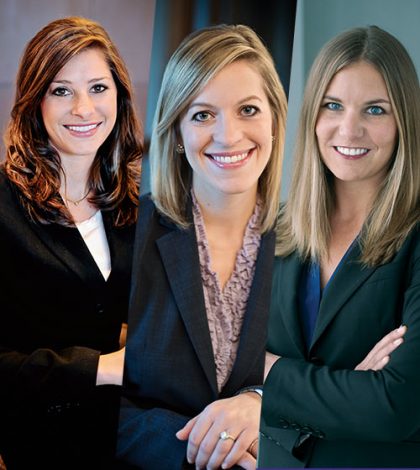 Meet the ladies of Schwebel, Goetz & Sieben P.A., Minnesota's largest, most experienced personal injury firm – Courtney Lawrence, Jessica Servais and Alicia Sieben. As legal contemporaries who graduated from law schools in Minnesota in 2008, 2007 and 2009, respectively, they share a professional journey made richer by a diverse and inclusive firm culture.
Both Lawrence and Sieben clerked at Schwebel during law school and then joined the firm as associates after passing the bar. Servais is the newest addition, joining just over a year ago. All three are personal injury counselors and litigators representing clients with the proficiency and compassion that are the firm's hallmarks.
Welcomed by the firm's preeminent attorneys, they count themselves as fortunate to be working side-by-side with the most acclaimed lawyers in the practice. Ten of Schwebel's 18 attorneys are National Board and Minnesota State Bar certified as civil trial specialists, and they are eager to foster young and diverse legal talent.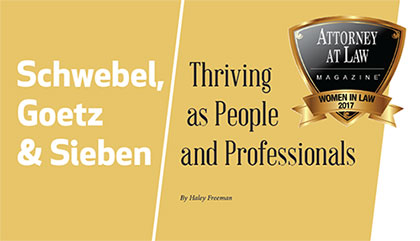 Servais said, "When I first started here, I was looking for a place where I could learn from people, but I was also intimidated. Everyone is so smart, and I thought they'd be so serious. But I found that everyone is down-to-earth. I don't ever feel stupid for asking a question. They're great about giving me opportunities to help with trials or with unusual cases I haven't handled before. There is so much support, and I've gotten to see how different attorneys handle litigation, take what fits and add it to my own presentation."
"One of the biggest advantages to being in this group is the wealth of knowledge among our senior male counterparts," Lawrence commented. "Anyone is willing to help with anything. And my experience is that we are given a lot of opportunities if we want to take them. If there is something you want to do, you have access."
"I think we've all been given the opportunity to work with a broad spectrum of cases and clients," Sieben noted. "We are a litigation firm. From the first day we set foot in the office, the partners put full confidence in us to prepare files to go to trial. They want us to try cases and continue the practice they've had for 20-plus years."
These three ladies in law have something else in common – each is the mother of two young children. They expressed that while they greatly appreciate the genuine support of their male peers, having colleagues of similar age, gender and life circumstances is enormously valuable.
Sieben explained, "The men we work with all treat us as equals and are also our friends. But as women, we have a different connection. We understand each other and what we're facing at home. We react to and handle clients differently. It's nice to have a mix of both. We also have a wide spread of ages at our firm with different perspectives on cases. As we all work together, it makes us a more effective team."
Lawrence commented, "I think that's very important. As much as we are equal, we are still different, with different responsibilities in life. It's nice to know that other women are in the same boat – if they can do it, so can you. … Jim Schwebel set up a home office for me with a computer and scanner, so if I have to leave early or can't come in because one of my kids is sick, I have everything I need to work from home."
Servais added, "I think we're lucky to be where we are as women. I'm not sure other firms are so accommodating. I just took a maternity leave of three months. Alicia and Courtney paved the way for me when I got here, since they had both taken maternity leave, and both had already been set up to work from home. The fact is, we're trusted to get the work done, and we're given the leeway to make it work."
According to Lawrence, Servais and Sieben, keeping a grasp on the slippery notion of work/life balance is still a daily effort. Servais summed it up this way: "Being able to say no is important. I've learned that the nature of our work is such that there is always stuff left over at the end of the day, but you have to step away when it's time to go home. I've also learned to be proactive about asking for what I need to help me do my job better. People around you don't always anticipate what you need."
"If I feel I'm at the end of my rope, it's time to call it a day," Lawrence agreed. "If you're miserable, it's bound to carry over to your clients. Happy lawyer; happy client."
"It's a learning process," said Sieben, "and I'm still trying to find what balance means. We're encouraged to take vacations here. We can always remain connected when we're away. But we're encouraged to both work hard and play hard, and make the most of our time away. It's one of the things that makes this such a great place to work."
The talented women lawyers of Schwebel, Goetz & Sieben are continuing a legacy of legal excellence begun more than 40 years ago. The firm's diverse and inclusive workplace, where lawyers thrive both as people and as professionals, is essential to providing the best possible legal representation to injured people. "Every person and case we represent is worth taking a risk on," Sieben said. "We're prepared to take every case to a jury and try it to the end. That's the way this firm has been throughout its history, and it's amazing to be part of this group of lawyers."