Congratulations to the Minneapolis Police Department's K9 Class of 2017

May 2017
On May 25th, 2017, the Minneapolis Police Department celebrated graduation day for their K9's and Officers in the Class of 2017. Congratulations go to Officer Matt and K9 Copper from Minneapolis, Sgt. Barbo and K9 Cezar from the DOC, Officer Allan and K9 Gator from the U of M, Lt. Erickson and K9 Ray from HCSO and Officer Gerald and K9 Hawk from KPD.
The MPD said of the event, "Congra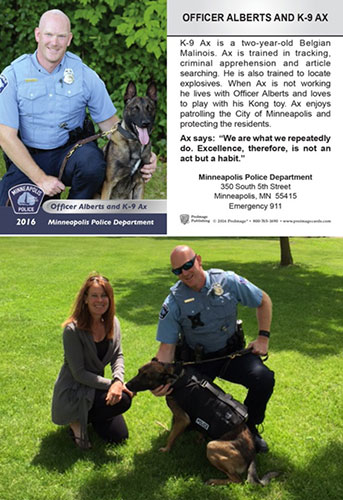 ts to all the teams, especially Officer Matt Lindquist and K9 Copper of the MPD. We also wanted to give a special shout out to the head trainer, Officer Joe Fuller, and assistant trainer, Officer Brian Thureson. Participating agencies included the Department of Corrections, University of Minnesota PD, Hennepin County Sheriff's Office and Kasson PD."
Schwebel, Goetz & Sieben Marketing Director Tammy Diepenbrock was also in attendance to support K9 Ax and Officer Alberts. K9 Ax was sporting his brand new tactical protective vest that was donated by the firm as a small token of gratitude for the valuable work that they do. The firm has a tremendous amount of respect for the work of law enforcement officials and their canine counterparts.
The Minneapolis Police Department's K9 Unit has been serving the citizens of Minneapolis, and the men and women of the police department since 1966. The dogs utilized by the unit are initially trained for suspect detection and apprehension, but many go on to receive training in narcotics and explosives detection. All of the dogs live at home with their police partners and their families. The selection process is rigorous. Only a select few make the cut which makes purchase and training of these animals costly. The Minneapolis Police Department K9 Foundation mission is to provide financial support for the Minneapolis Police Department's K9 Unit.