Courtney Lawrence named Super Lawyers Rising Star 2011

July 2011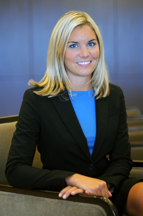 Schwebel, Goetz & Sieben is pleased to announce that Attorney Courtney Lawrence was named as a Super Lawyer "Rising Star for 2011" in Personal Injury Litigation.
"This is a unique honor bestowed upon those select few lawyers in Minnesota who have distinguished themselves and their talents in their new professions. All of us at Schwebel, Goetz & Sieben congratulate Courtney on this achievement".
Schwebel, Goetz & Sieben, P.A., with 19 attorneys, is the largest law firm in Minnesota specializing exclusively in the area of personal injury and wrongful death litigation.
For more information, contact Tammy Offerman (tofferman@schwebel.com) at 612-344-0338 or visit schwebel.com.