Attorney Kojo Addo Named 2022 Super Lawyers Rising Star

July 2022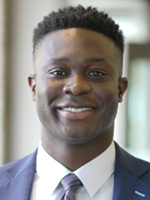 All of us at Schwebel, Goetz & Sieben P.A. congratulate Kojo Addo for being named a 2022 "Rising Star" by Minnesota Super Lawyers. No more than 2.5 percent of the lawyers in Minnesota are named Rising Stars which acknowledges the up-and-coming attorneys in the state.
His commitment to justice and advocacy, coupled with compassion, as well as Schwebel, Goetz & Sieben's tradition of exceptional service position Kojo to serve injured people and their loved ones to the highest level of excellence.
"As a personal injury attorney, I assist my client in navigating the legal and insurance processes to ensure that they have received fair compensation for their injuries. This allows my clients to focus on their personal recovery, while I take care of the heavy lifting" says Kojo. "I am honored to be recognized as a 2022 Rising Star by Super Lawyers. This recognition would not have been achieved without the support of my family, staff, and colleagues at Schwebel Goetz & Sieben and those practicing at other law firms."
Kojo's law practice is limited to personal injury and wrongful death litigation. He handles motor vehicle, motorcycle, and truck collisions as well as general liability cases.
If you or a loved one has been injured through the fault of another, please contact Kojo at 612-344-0304 for a free consultation to discuss your options. Or visit schwebel.com for more information.