Attorney Kojo A. Addo Featured in Bench & Bar of Minnesota Signature Publication

November 2020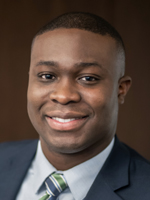 Minneapolis, MN, November 2020 – Schwebel, Goetz & Sieben would like to congratulate attorney Kojo A. Addo on his featured profile article in "Bench & Bar of Minnesota"—the Minnesota State Bar Association's signature publication. Addo was recognized in the Colleague Corner for having a direct and positive effect on injured people's lives by helping them and their families navigate complicated legal and insurance processes. Kojo also serves on the Mitchell Hamline Alumni Board, MSBA New Lawyers Section Committee and was recently recognized in The Best Lawyers in America© inaugural edition of 2021 Best Lawyers: Ones To Watch for the category Personal Injury Litigation – Plaintiffs.
"Our clients appreciate Kojo's talent, energy and passion in pursuit of their cases," said Jim Schwebel, founding partner of Schwebel, Goetz & Sieben.
Kojo started at Schwebel, Goetz & Sieben as a law clerk in 2015 and became an attorney at the firm in October 2017. He received his undergraduate degree in Communication Studies with a minor in Business Management from Gustavus Adolphus College. Kojo obtained his juris doctorate from Mitchell Hamline School of Law.
In the Bench & Bar article, Kojo reflects on the reasons why he chose to go to law school and pursue a personal injury practice. Addo's experience highlights his early commitment to a vocation of advocacy and justice for others by leveraging his analytical and consensus building abilities. He discusses his role as an ally to other lawyers and the importance of fellowship among peers, particularly amidst the unique challenges of the pandemic. And in a noteworthy response, Kojo shares the best professional and general life advice he ever received.
If you have been injured in a serious accident, you may benefit from professional and compassionate legal help to navigate the complexities involved with personal injury claims. In many cases, people who retain attorneys may be able to recover more than they might otherwise be able to recover alone. The experienced, dedicated attorneys at Schwebel, Goetz & Sieben provide the benefit of having someone fighting for you. Contact our office today at 612-377-7777 or toll free at 1-800-752-4265 to schedule your free, confidential consultation with one of our attorneys.