Attorney Hannah Albrecht Receives the 2022 North Star Lawyer Award for Pro Bono Work

June 2022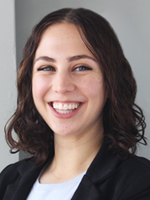 Hannah Albrecht of Schwebel, Goetz & Sieben received the 2022 North Star Lawyer award to recognize her pro bono work for Mid-Minnesota Legal Aid. The North Star Lawyer award is a recognition by the Minnesota State Bar Association for lawyers who have completed 50 hours or more of pro bono work in the previous calendar year. In 2021, Hannah volunteered with Mid-Minnesota Legal Aid's immigration department, working with individuals seeking citizenship. Hannah served as their attorney; taking the case from when they applied to legal aid for immigration assistance, to finish, when citizenship was granted.
"I am proud to work at a firm that not only helps Minnesotans within the personal injury field but allows me the opportunity to reach beyond and help others within our community. The ability to use my law license to pursue passions outside of my specific field is an immense privilege and I am grateful that Schwebel, Goetz & Sieben fosters that ability!"
Hannah continues her pro bono work and urges anyone with questions about volunteering for Mid-Minnesota Legal Aid, or pro bono work in general, to contact her.
Hannah's practice covers all aspects of personal injury litigation including car and truck collisions, motorcycle crashes and general liability cases. She is licensed to practice in Minnesota and Wisconsin. If you or a loved one have been injured due to the negligence of another, please call 612-377-7777 or 800-752-4265 for a free consultation. You can also complete a Case Evaluation Form on our website at schwebel.com.