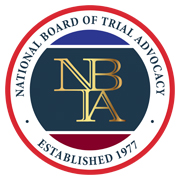 The National Board of Trial Advocacy, or NBTA, was created in the public interest to identify lawyers who demonstrate that they are skilled, capable, ethical trial lawyers.
In the area of medical services, we are all familiar with board certification of physicians. When we see that a doctor is board certified, we know that the doctor has been tested and examined by an independent group of physicians who have verified that the doctor is properly qualified and skilled in his or her field of practice.
In the world of legal services, there was nothing comparable to the system for board certifying doctors. The NBTA came into existence because a small group of highly respected lawyers of nationwide reputation realized that most people who need a lawyer do not have any reliable way to identify which lawyers are truly capable and competent and which ones are not. A consumer shopping for legal services needed a system that publicly identifies lawyers as "board certified."
Accredited by the American Bar Association, the National Board of Trial Advocacy maintains rigorous standards for the certification of civil, criminal, and family law trial advocates.
The U.S. Supreme Court affirmed NBTA's mission and purpose, finding that "information about certification and specialties facilitates the consumer's access to legal services and thus better serves the administration of justice." The Supreme Court went to say that the NBTA's certification "both serves the public interest and encourages the development and utilization of meritorious certification programs."
In order to be certified as a Civil Trial Specialist by this elite group of trial attorneys, an attorney must undergo an exhaustive screening of their credentials including: documentation of their experience, judicial and peer references, as well as a day long exam. The attorney's ethical standards are also examined by the Standards Committee of the NBTA. A candidate's willingness to undergo this process illustrates a dedication to achieving and maintaining a high standard of practice. In order to retain membership in the NBTA, an attorney must maintain an active trial practice and is required to re-submit his or her application for certification at the end of each five-year term.
Schwebel, Goetz & Sieben is proud to have several members of this elite organization. They are: Richard L. Tousignant, Peter W. Riley, Paul E. Godlewski, and Mark H. Gruesner.