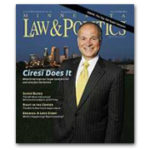 Minneapolis (August 8, 2007) – Schwebel, Goetz & Sieben is pleased to announce that James R. Schwebel and William R. Sieben have been named by Minnesota Law & Politics as two of the '100 Most Influential Attorneys in Minnesota History.'  The August/September issue of Minnesota Law & Politics magazine named 'Minnesota's Legal Hall of Fame', will introduced the list of '100 Most Influential Attorneys in Minnesota History'.
"Both Bill and I are extremely honored to be included among the 100 Most Influential Attorneys in Minnesota History.  Inclusion in this list is recognition not only of my work, but the work of all of our attorneys and support staff," said Schwebel.
James Schwebel founded Schwebel, Goetz & Sieben in 1974. In his 35 years of practice, Schwebel has secured nearly three dozen recoveries of over $1 million or more. He represented victims of the MGM Hotel fire in Las Vegas, the Williams Pipeline explosion in Roseville, the Nicollet Mall Holidazzle crash and the Minnesotans who lost family members in the Galaxy Airline crash in Reno, Nevada. In a 2002 jury trial, Schwebel received the largest wrongful death award ever handed down. Schwebel graduated from the University of Minnesota Law School in 1968 and took his first job with William DeParcq, a top personal injury attorney. Six years later, he struck out on his own, with one legal assistant and a secretary. Since then, the firm has grown into the largest personal injury litigation firm in the state.
William Sieben is one of the top plaintiff's personal injury lawyers in Minnesota; Sieben has won more than 20 verdicts, awards or settlements in excess of $1 million in his 30-year career. A native of Hastings, Sieben was inspired to practice law by his father, who was a non-practicing lawyer and a member of Gov. Orville Freeman's Cabinet. Sieben graduated from William Mitchell College of Law in 1977. He served on the White House staff of Vice President Walter Mondale, then returned to Minnesota and in 1980 joined Schwebel & Associates. In 1983, he became a principal shareholder and the firm was renamed Schwebel, Goetz & Sieben. In two of his major settlements, Sieben secured $5 million in 1999 for a 16-year-old Natasha Schuh, a high school student made a quadriplegic in a theater accident in 1997 and $4.5 million in 1998 for a 21-year-old Kim Middendorf, a road construction worker and college student made paraplegic in a 1995 accident involving a road-rolling machine. "I believe in the fundamental rights of the individual and their right to have access to a fair courts system," Sieben says. "That's what lets the poorest people in America go toe-to-toe with the richest, and that makes our country work."
According to the Minnesota Law & Politics, "A Nobel Peace Prize winner. A Supreme Court justice from St. Paul. Another Supreme Court justice from St. Paul. Al Capone's Lawyer. And 96 others. All attorneys. All from Minnesota. All with Sasquatch-sized legal footprints. We started this project nearly a year ago, just sitting around talking about the legends of Minnesota law. Then it took on a life of its own. Our casual hallway discussions soon led to interviews with dozens of area opinion leaders and months of research, and suddenly we had a list of several hundred lawyers. Then came the hard part: cutting it down. Believe us, we could have published something three times this size. But after much consideration and plenty of debate, we decided on the group that follows-in alphabetical order-a Super Lawyers list for the ages, if you will. Not all of them are still around, but they all deserve to be remembered".
SCHWEBEL, GOETZ & SIEBEN, A Professional Association, is the premier law firm in Minnesota specializing exclusively in personal injury litigation. With 18 lawyers and more than 45 support staff, it provides personal, specialized service from initial investigation through settlement, trial or appeal. The firm is a community of experienced and committed trial lawyers who embrace a professional approach to the practice of law, providing the highest level of legal expertise and advice.
For more information, contact Tammy Diepenbrock (tdiepenbrock@schwebel.com) 612-344-0338 or visit schwebel.com.