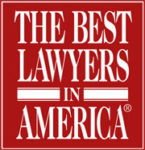 Since its inception in 1983, Best Lawyers has become universally regarded as the definitive guide to legal excellence. It is based on an exhaustive peer-review survey in which more than 41,000 leading attorneys cast almost 3 million votes based on the legal abilities of other lawyers in their practice areas. Because lawyers are not allowed to pay a fee to be listed, inclusion in Best Lawyers is considered a singular honor.
Nine attorneys at the personal injury law firm of Schwebel, Goetz & Sieben P.A. have been selected among "The Best Lawyers in America" as published by Woodward/White Inc.
Schwebel, Goetz & Sieben P.A. has more attorneys listed in Best Lawyers in the area of plaintiff personal injury than any other firm in Minnesota, earning the distinguished title, "Top Listed in Personal Injury Litigation".
The following Schwebel, Goetz & Sieben P.A. attorneys have been selected by their peers to this exclusive group: Jim Schwebel (23 years listed), John Goetz (17 years listed), Bill Sieben (17 years listed), Paul Godlewski (4 years listed), Richard Nygaard (17 years listed), Peter Riley (7 years listed), Bob Schmitz, Richard Tousignant (7 years listed), and Jim Weinmeyer (3 years listed).